Sunday 6 November 2022
Members of the Greek Community together with the general public were invited to the Oxi Day Celebration in Kings Park on 6 November  2022. The celebration was delayed from its authentic date of October 28 to allow the participation of the outstanding Greek Presidential Guard (also known as Evsones) who were touring Australia.
The event was very successful and was attended by a very large crowd of onlookers.
Dignitaries in attendance included the Premier of WA, Mr Mark McGowan; Greek Consul, Georgia Karasiotou; Minister Dr Tony Buti MLA; Hon Dan Caddy MLC, representing Minister Papalia; City of Perth Lord Mayor Basil Zempilas; State President of RSLWA Mr Duncan Anderson; Past Governor of WA, Mr Ken Michael AC and various dignitaries from the Australian and Greek armed services.
The Greek Orthodox Clergy were represented by His Grace Bishop Elpidios of Kyanea, Very Rev. Fr Emmanuel Stamatiou, Archimandrite Cosmas (visiting from Melbourne), Fr John Athanasiou, and Fr Evan Battalis.
Special guest was Mr Arthur Leggett who is 104 years old and is a veteran of The Battle of Crete. (Further information about Mr Leggett's war experiences may be found in the Personal Histories section off this website).
Oxi Day or  'Anniversary of the No' is celebrated throughout Greece, Cyprus and the Greek communities around the world on 28 October each year. Oxi Day commemorates the rejection by Greek prime minister Ioannis Metaxas of the ultimatum made by the Italian dictator Benito Mussolini on 28 October 1940 and the subsequent Hellenic counterattack against the invading Italian forces.
Following the service led by His Grace Bishop Elpidios of Kyanea, Mr Arthur Leggett recited the Ode to everyone's applause.
All members of our Committee were in attendance, the following having laid wreaths during the Ceremony. Mr Bill Evangel and Mrs Catherine Papanastasiou laid a wreath on behalf of the Greek Australian Returned and Services League.  Mr Mr Manoli Yeroyianakis laid a wreath on behalf of the Cretan Brotherhood.
At the completion of the Oxi Day proceedings, the Greek Consul invited the Premier together with Mr Leggett to unveil a plaque commemorating The Battle of Crete.  In her speech the Greek Consul asked the premier for his support in progressing the installation of The Battle of Crete Memorial.
The plaque was prepared by our Committee especially for this occasion as a means of lifting the profile of the Committee's endeavour to install the memorial in Kings Park.  It is intended to incorporate the plaque in the final design of the memorial.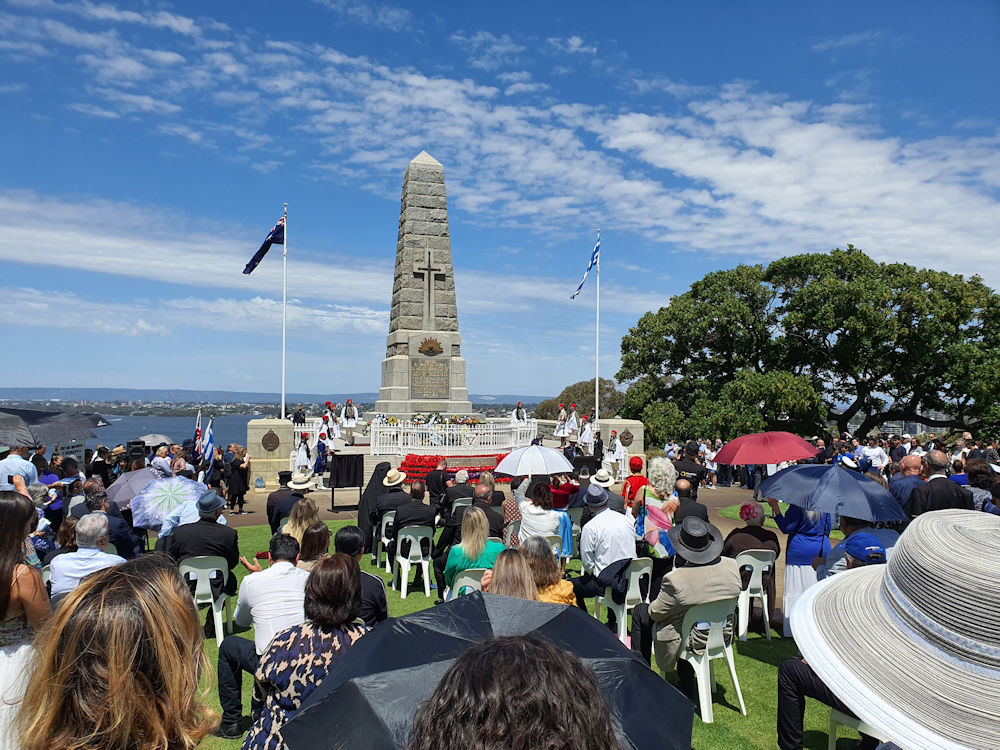 The Oxi Day Ceremony in progress in Kings Park Perth at the State War Memorial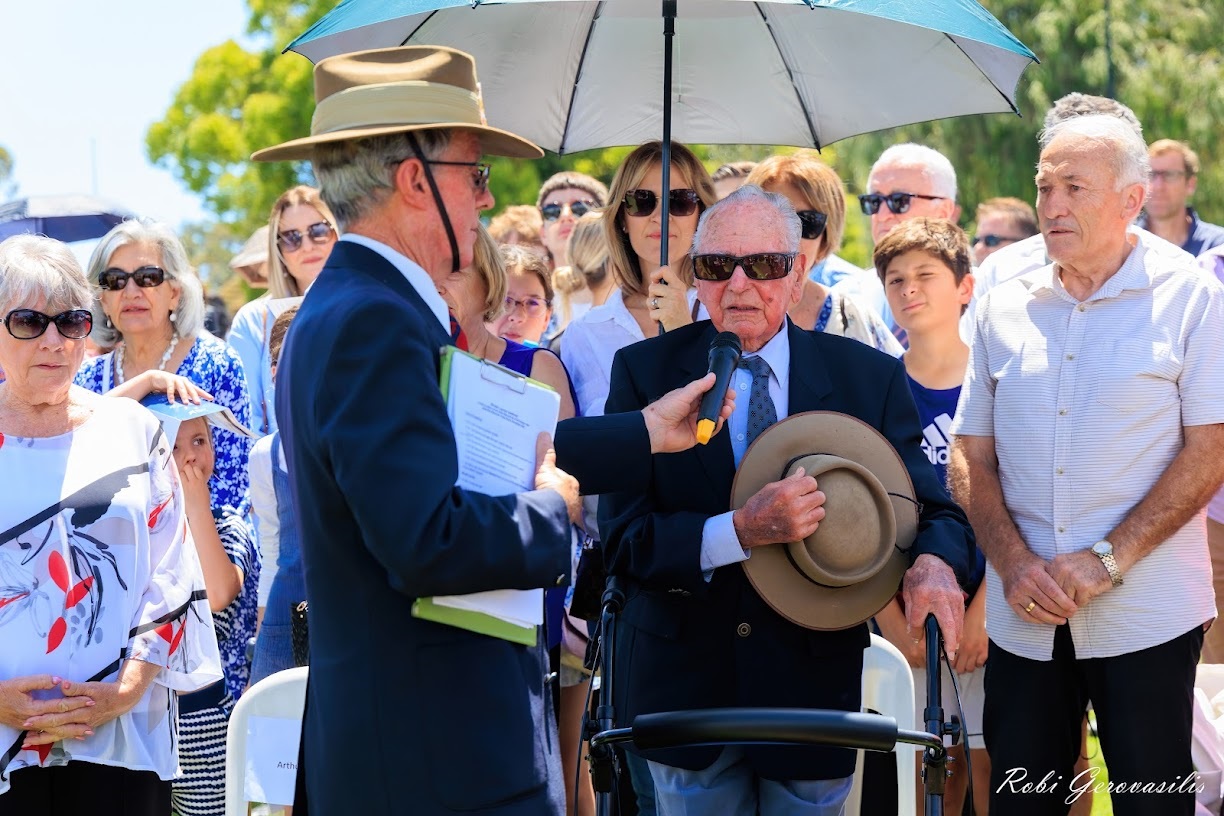 104 year old Battle of Crete Veteran, Arthur Leggett reciting the Ode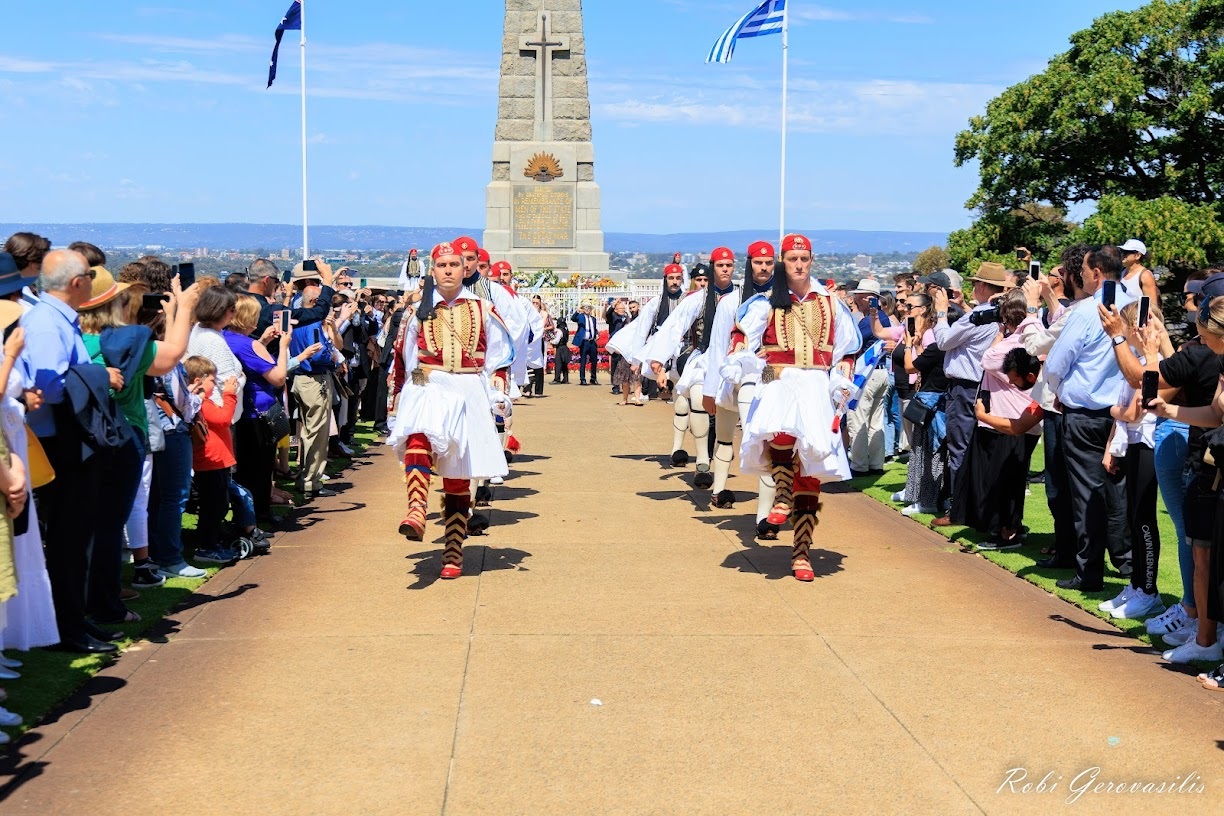 Evzones in action in front of the State War Memorial
Unveiling of our plaque by Premier McGowan and Arthur Leggett together with Bill Evangel and Greek Consul Georgia Karasiotou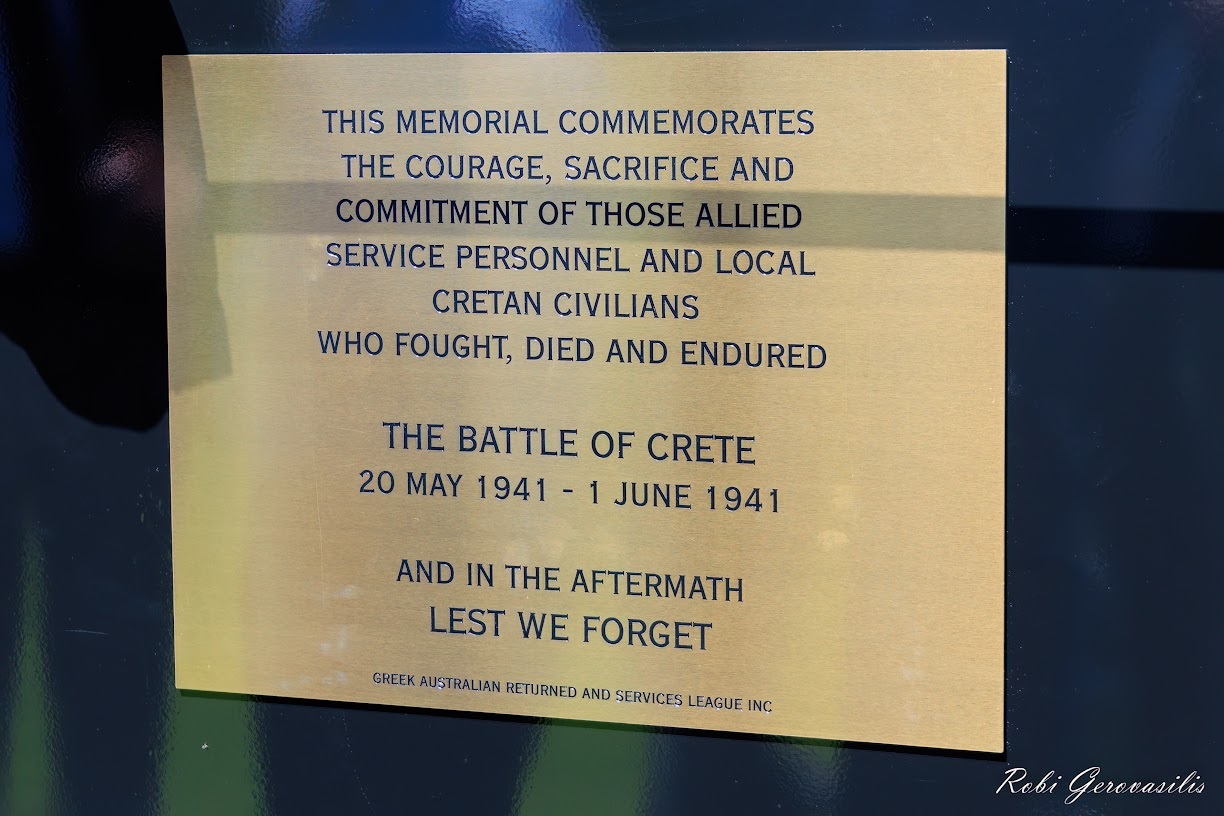 Our Plaque